MVRDV, in cooperation with the Fugger Foundations, is adding its expertise in urban planning and housing architecture to a dynamic, forward-looking, interdisciplinary conversation about the future of social housing. Undertaken as part of the celebrations marking the 500th anniversary of the Fuggerei social housing in Augsburg, Germany, MVRDV's contributions include visions for future Fuggereien, as well as the design for an exhibition pavilion to open in Augsburg in May next year.
The Fuggerei is the world's oldest social housing complex. The brainchild of merchant Jakob Fugger, since 1521 it has provided a place for people to live with dignity, charging a constant, unchanging rent of just one guilder a year – or 0.88 euros in modern currency.
In our current times of housing shortage, climate crisis, social inequality, and isolation, the sustainability-oriented and people-centred concept of the Fuggerei provides a global role model, and offers a response to the great social and ecological questions of our time. So, in celebration of the Fuggerei's 500th anniversary, the Fugger Foundations are inviting an interdisciplinary debate, over the course of several months, that places the Fuggerei's guiding principles at the centre of attention. The anniversary year will kick off with the celebrations in Augsburg on August 23, 2021, exactly 500 years after the founding of this pioneering social innovation.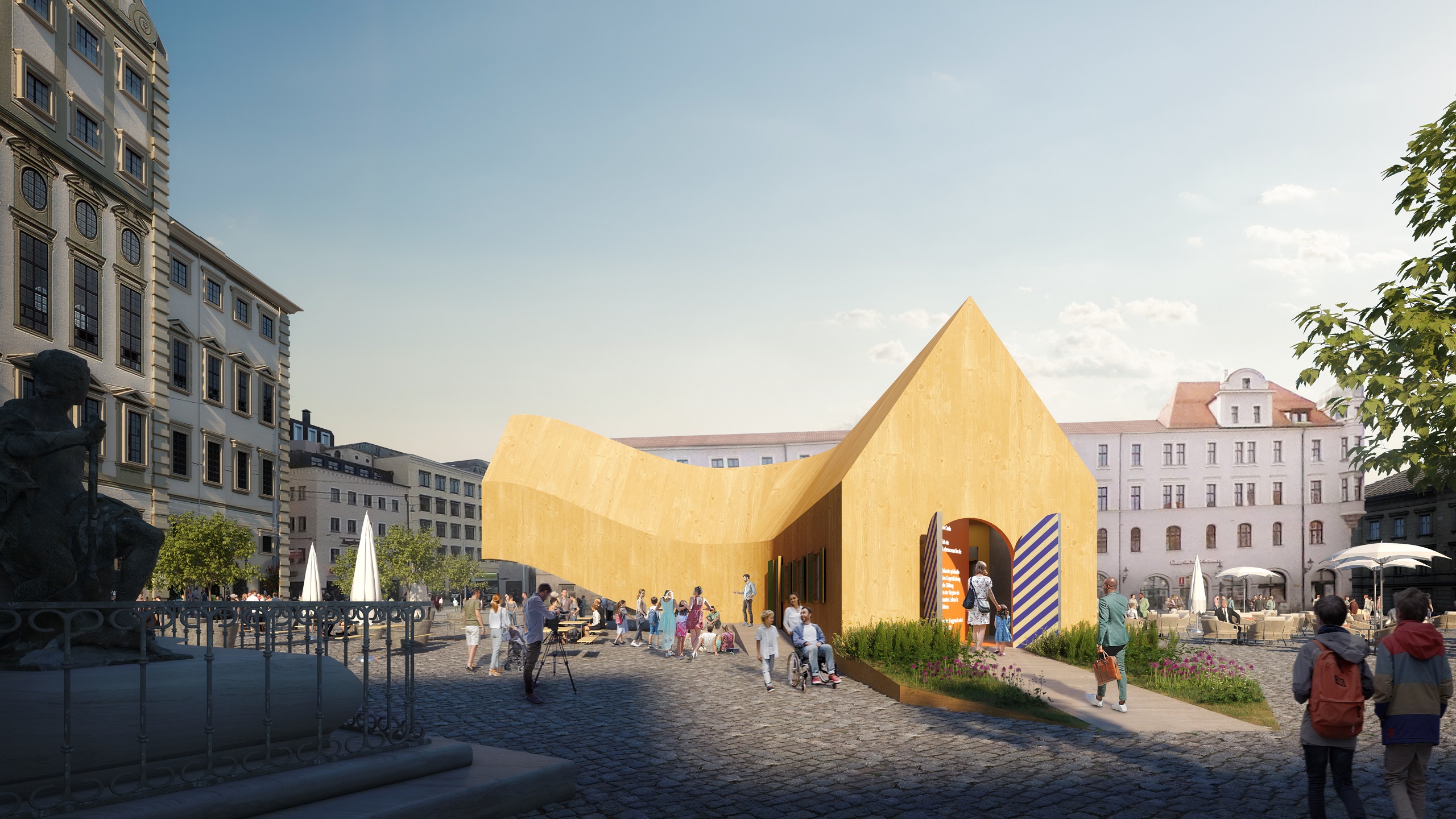 The culmination of these conversations with thought leaders from the field of architecture, science, politics, culture, and religion will be a series of studies designed by MVRDV for future Fuggereien around the world, as well as a "Fuggerei Code" for the future of social housing. These will be presented in a pavilion outside the Augsburg town hall, also designed by MVRDV, beginning on May 6th 2022.
The pavilion itself is a long, narrow gabled building, its form inspired by the long terraced houses of the Fuggerei itself. However, rather than a single straight shape, one end of the pavilion is curved, pointing towards the Fuggerei from its location on the town square, and raised to form an 8.5-metre cantilever that provides a lookout point to view the town hall itself. This raised end incorporates a sloped tribune, allowing the pavilion to host lectures, presentations, and other events during the interdisciplinary debate of the 500-year Fuggerei anniversary. The pavilion will be made of cross-laminated timber, with its large cantilever thus demonstrating the structural potential of a relatively new technology based on a sustainable material.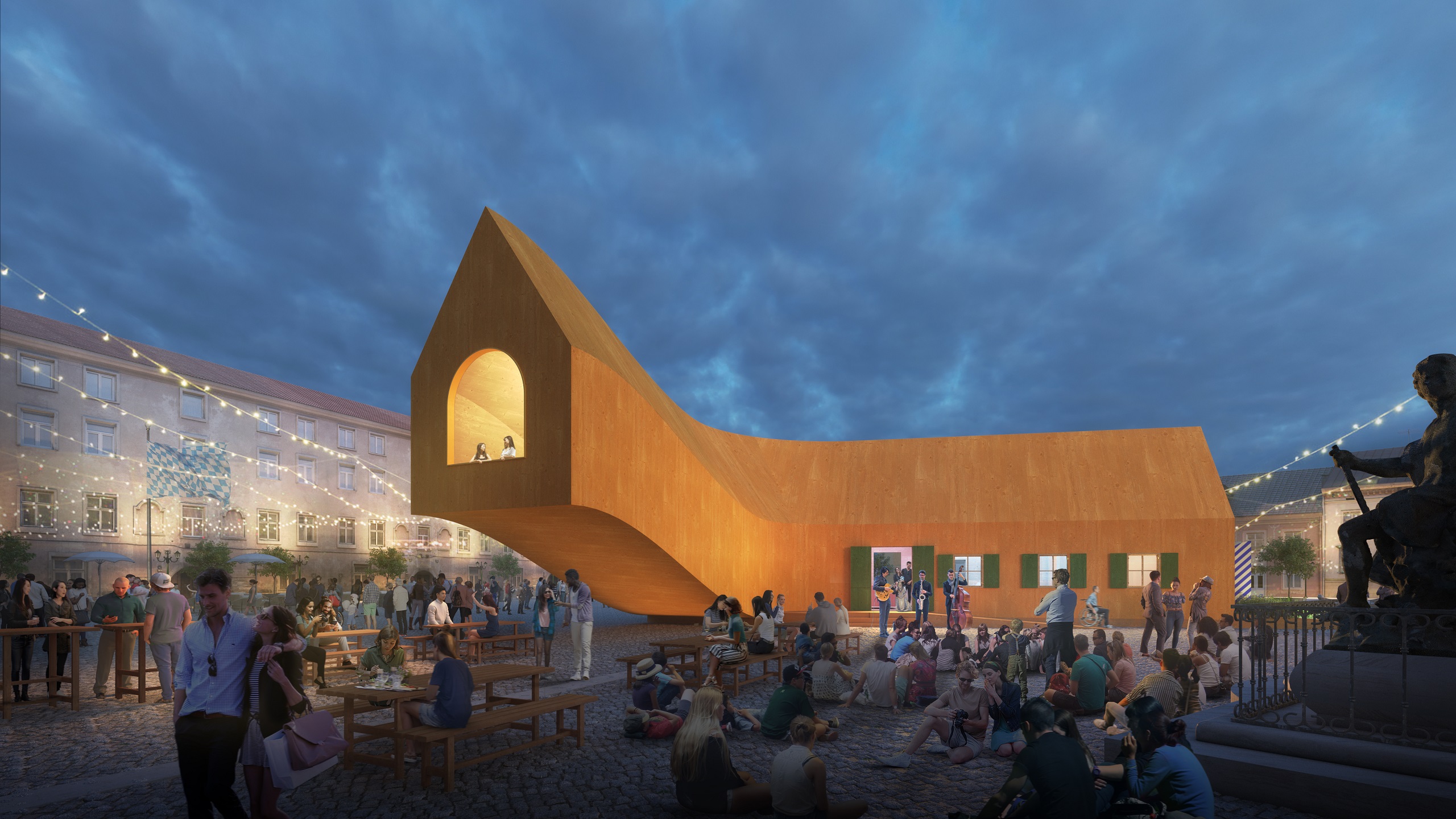 "MVRDV has a long history with housing projects – in fact one of our first realised designs was for a housing project in Amsterdam, called WoZoCo", says MVRDV founding partner Jacob van Rijs. "Since then we have designed all kinds of housing, all over the world, from Madrid to Tianjin. But the fascinating history of the Fuggerei makes it unlike anything we've worked on. It goes to show how diverse housing can be as a topic of exploration; no matter how many approaches you imagine, there are always other ways."
"From the very beginning the Fuggerei has set standards that have the power to positively change society and provide an innovative answer to urgent social challenges", explains Alexander Graf Fugger-Babenhausen, a member of the Fugger Family Senior Council. "The Fugger idea is for everyone, it knows no boundaries. We invite the world to be part of this anniversary."
The anniversary celebrations of the Fuggerei begin tonight, Monday August 23rd, with an official ceremony at 18.00 CEST in Augsburg. A full programme and a livestream of the ceremony, which will include an appearance by MVRDV founding partner Jacob van Rijs, can be found here: https://www.fuggerei-next500.de