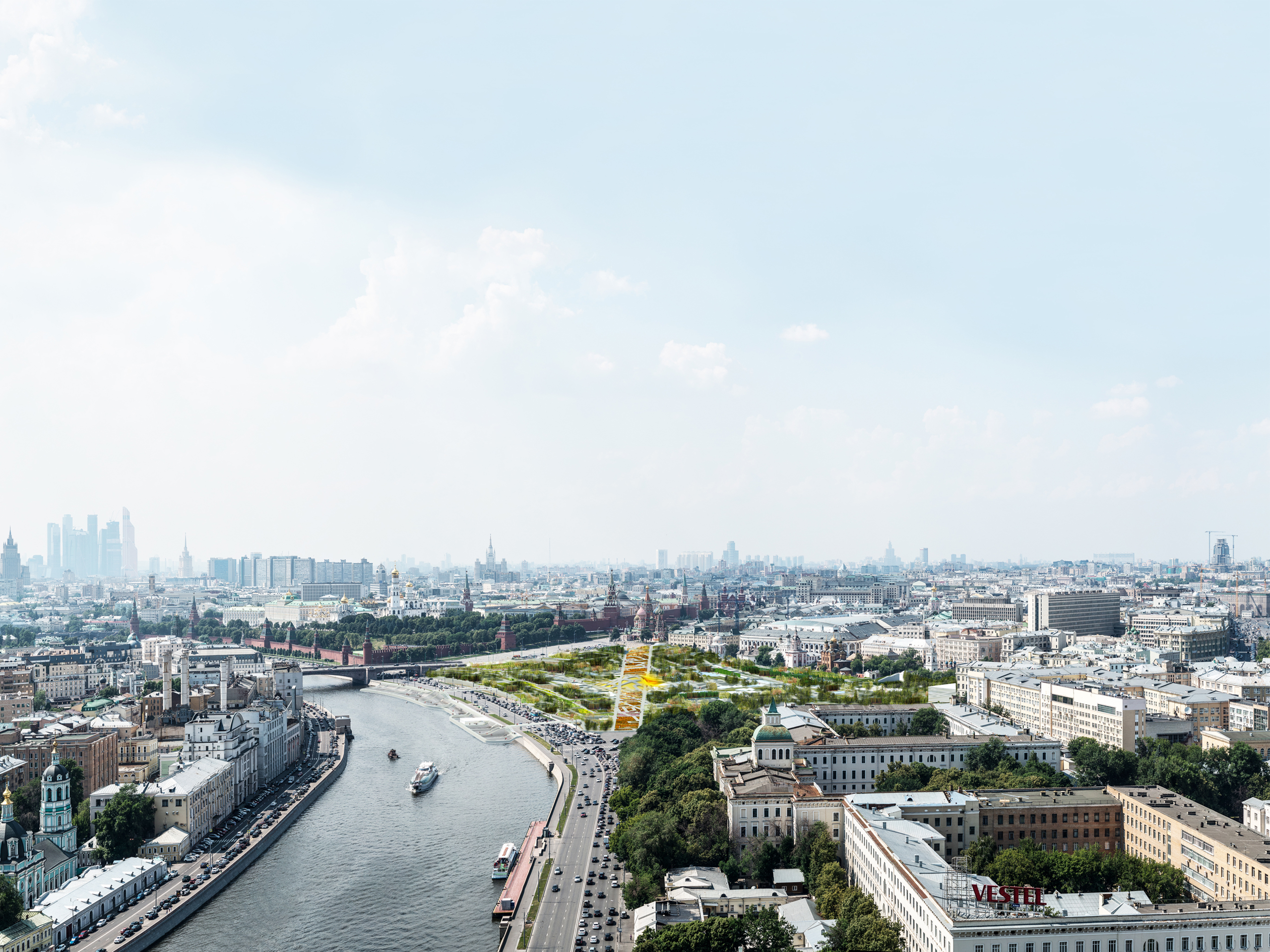 The Gardens of Zaryadye
MVRDV's proposal for Zaryadye merges the area's vibrant history with its bright future. The proposal for a new, green public place for the Muscovites places a framework of paths, drawn from the old city fabric, across the landscape. As a progressive model for urban parks the proposal introduces a collection of 750 different garden rooms of varying qualities and characters. The park integrates numerous amenities, including underground parking, a concert hall and exhibition spaces.
Location

City

Moscow

Year

2013

Budget

€150,000,000

Surface

52000 m²

Client

Open Joint-Stock Company "Rossiya"

Status

Competition

Programmes

Themes
Zaryadye is a remarkable site hidden behind a fence in the heart of Russia's capital. Positioned along the Moskva River the site is proximate to the Red Square, Kremlin, Saint Basil's Cathedral and GUM Shopping Arcade. Zaryadye is of both cultural and historical significance for Muscovites. Thus, its proposed redevelopment, whilst highly anticipated, has been controversial and has resulted in a complex and contradictory wish list. Zaryadye needs to be a connection between history and the future, city and nature, summer and winter, global and local, iconic and sensitive, community and individuality, idealism and realism and so forth.
The site is imbued with a long history. First, a swamp, it was cultivated into farmland and for centuries thereafter developed as a lively, densely populated neighbourhood. Its evolution matched that of the city until it was cleared to allow for the construction of one of the Eight Sisters. When the construction of the megaproject was halted a giant hotel took its place. In turn the hotel was demolished to allow for a planned commercial venture. The decision to return the site to the public places the rich history of Zaryadye back in the hands of the people. How to respond to the site's history and its importance in the city's collective memory? Should we bury the past with nature or treat the site as a tabula rasa? Should we tell the fascinating story of the site's great past and allow for a modern, contemporary society to embrace history whilst looking towards the future?
MVRDV proposes that the traces of Zaryadye's history are explored and brought to the surface. These traces will mark a new period of the site's history whilst acting as an x-ray of the site's past. The remnants of the past and required programmatic elements are translated into a fine, lace-like network of footpaths gently draped over the site. History and future become walkable on a sunny winter's day, or a warm summer night. Without distinction, without hierarchy, without nostalgia and without judgment, each trace of Zaryadye's history is drawn up from the ground and celebrated.
© all rights reserved