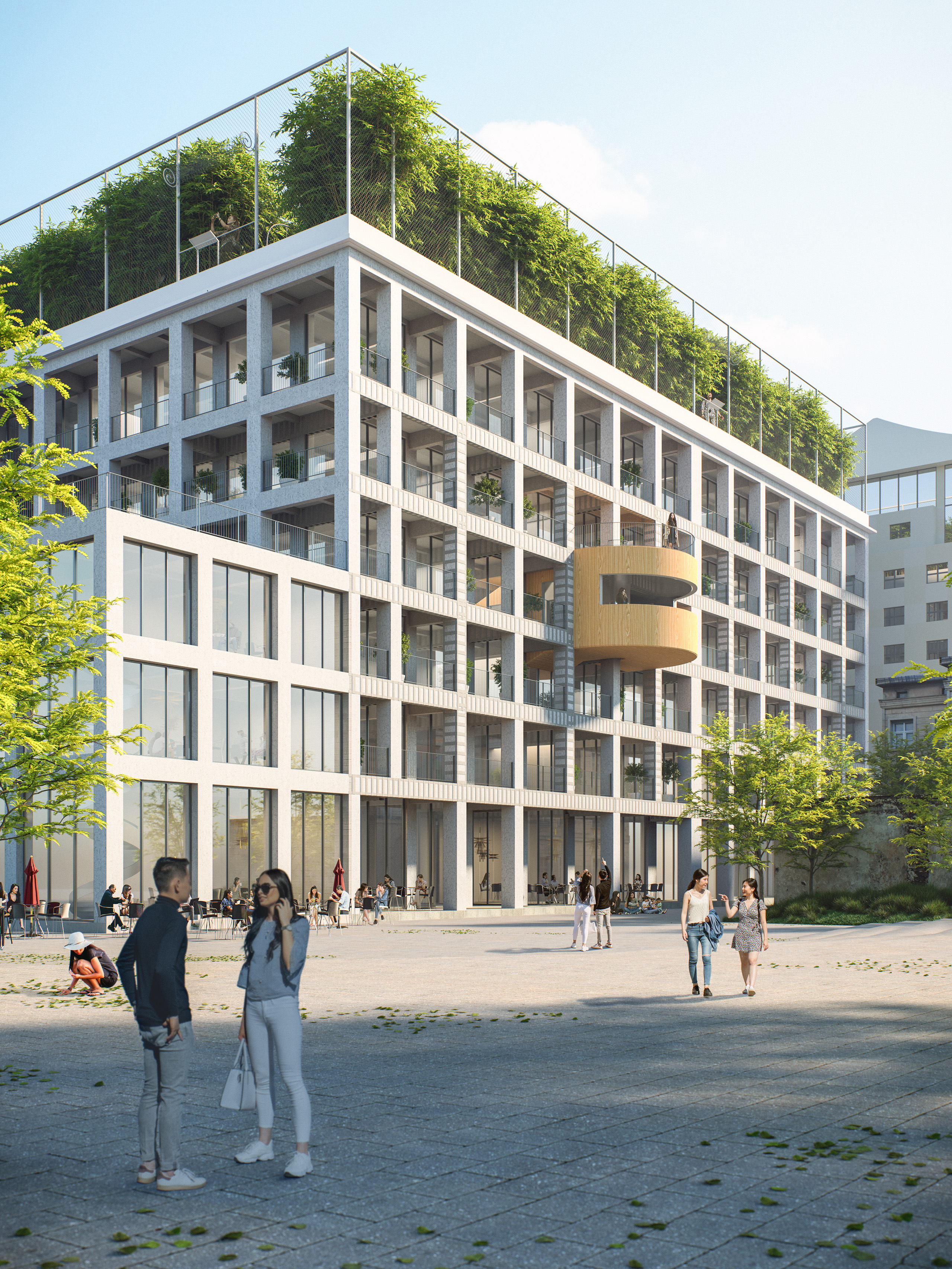 If Factory
Rather than demolish and rebuild, the design sustainably renovates a disused factory building to form a "creative factory", containing a mixture of offices for the Urban Research Institute of China Vanke and offices for rent. At the heart of the design is a public stairway, providing visitors with a view into the activities within and leading to a landscaped public roof terrace known as "The Green House".
Location

City

Shenzhen

Year

2020

Surface

12600 m²

Client

Bureau of Public Works of Shenzhen Municipality Nanshan District; Shenzhen Vanke Development Ltd.

Status

On site

Programs

Themes
Nantou is an ancient historic town but is now an urban village of Shenzhen, dwarfed by the skyscrapers that surround it. Recently attempts have been made to develop Nantou as a cultural and creative hub – the town hosted the 2017 Bi-City Biennale of Urbanism and Architecture, for example – and MVRDV's renovation project is the largest in a number of renovations proposed by Vanke, all with designs by nationally and internationally renowned architects.
The main intervention is a simple cleaning and renovation of the old. With new transparent painting techniques, the old structure will be treated to resist aging. This preserves the traces of the building's history, keeping the concrete frame that is now exposed due to the building's dilapidated state – in line with principles of sustainability and the circular economy. The exterior walls of the new offices are set back from this frame to create perimeter balconies that allow for circulation and chance encounters with colleagues. The walls are glass, while the floors of these balconies include glass blocks that mark the entrances to the building.
The most notable new addition in MVRDV's design is a large public staircase, clad in wood to distinguish it from the concrete and glass that characterise the rest of the design. This staircase carves its way through the building from the ground floor to the roof, at one point protruding from the façade on the fourth floor. Windows built into the staircase provide glimpses into the work being done in the offices, ensuring that this creative hub acts with transparency and remains connected to the community life of Nantou. Inside the staircase, mirrored glass and vibrant neon signage offer an aesthetic reminder of the early days of Shenzhen's urbanisation.
The third intervention is the "The Green House" on the roof. Upon exiting the staircase, visitors are greeted with a green bamboo landscape packed with amenities and activities. This is arranged to form a bamboo "maze" that divides the rooftop into different rooms, The Green Rooms, each containing a different activity, including a dance room, a dining room, a reading room, and many other themes for relaxation and gathering.
© all rights reserved