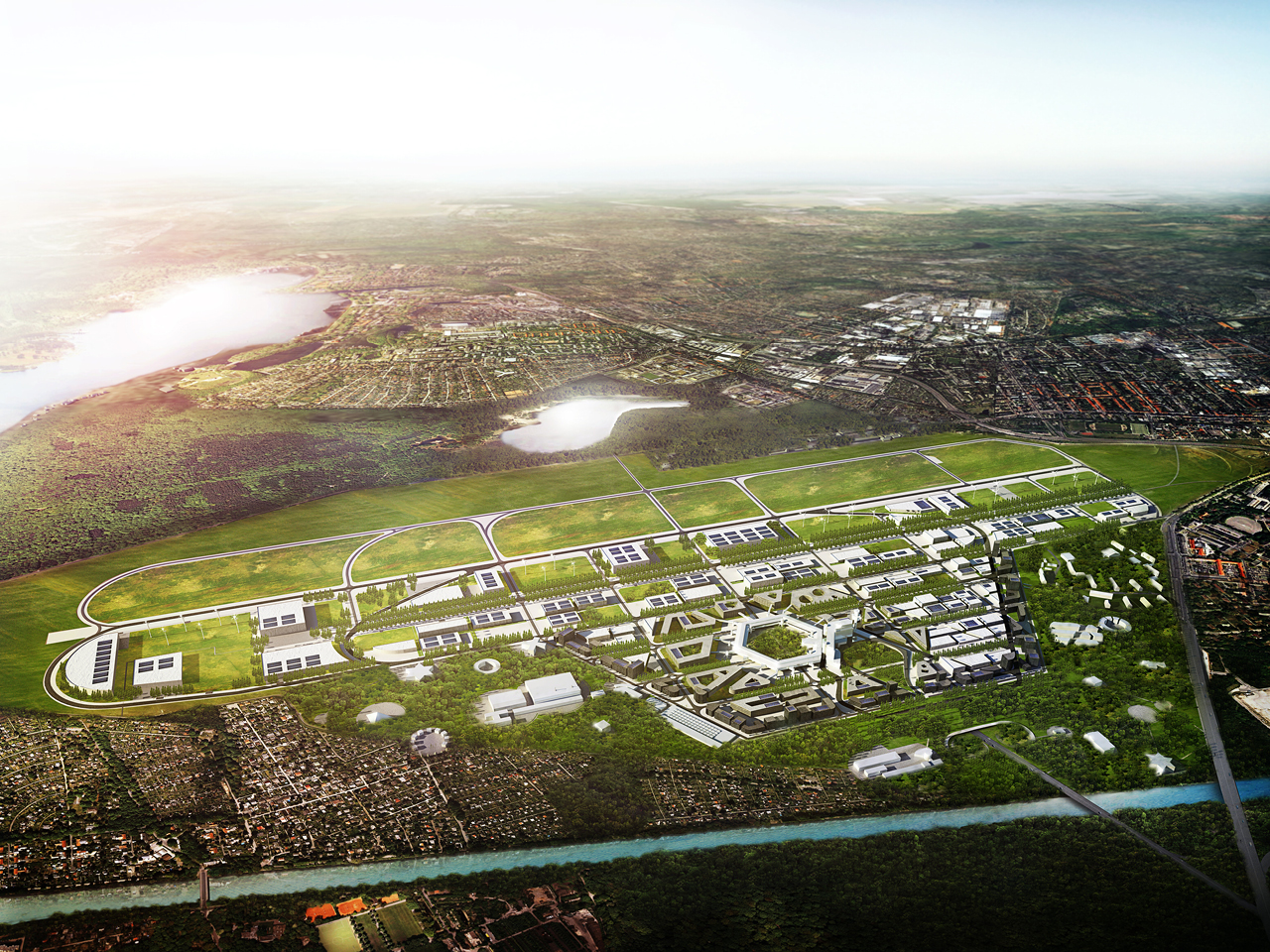 Tegel Fields
Tegel Fields hopes to be a new kind of business park by providing green space and public amenities. A business park which local residents are happy to have in their area; a business park that is both environmentally sustainable and economically viable; and a world class new area for business to locate in Berlin.
Location

City

Berlin

Year

2009

Surface

4600000 m²

Client

Stadtentwicklung Berlin, Berlin, Germany

Status

Competition

Programmes

Themes
In order to strengthen its competitive position as Germany's capital, Berlin should be gradually developed into a city which produces not just goods, but ideas and knowledge as well. To activate Berlin's potential as a center for services, zoning restrictions in the West of the city which specify that only industries such as transportation, electricity, communications and IT can locate there must be removed. With the coming closure of Berlin Tegel airport, the area represents a significant opportunity to begin this transformation.

It is assumed that the future use of the Tegel airport will be as a commercial and manufacturing base. The concept of 'Tegel Fields' provides a framework for making the area dense, sustainable, and a high quality environment to develop and do business in.



In the north of Tegel, existing buildings will be converted for commercial and leisure functions which are compatible with the adjacent residential areas. Integrated into these developments will be forest and park areas which complement the existing urban fabric.

At the center of the airport, the enormous open plot of the airfield, provides a unique spatial quality of near-rural openness in contrast to the rest of the city. This emptiness is preserved and kept free of buildings mostly, providing a great public space for sports and leisure. The area could also eventually be used as a permanent sustainable energy plant using wind turbines to power the surrounding business park. of at least 10 years to even temporarily. Alternatively, take the airfield for sports and leisure activities.

Four strategies are used to guarantee the environmental sustainability of the new development. First, the extensive reuse of existing infrastructure and careful planning to build a minimum new. Second, the use of renewable energy sources, including wind, photovoltaic, geothermal and biomass, in a decentralised distribution system for the business park.
Third, the protection of existing flora and fauna, and even the reforestation of some parts of the site for carbon offset purposes. Fourth, efficient planning, management and phasing of the development so as to minimize waste and maximise energy efficiency, for example through the use of on-site electric vehicles, as well as pedestrian and bike trails.

An economic strategy is used to ensure the viability of the project. A low initial investment and controlled cooperation of federal and state governments offer new possibilities. A form of Public Private Partnership (PPP) is formed for the purposes of developing and marketing the land. Through planned interim uses for undeveloped sites, such wind or solar power or greenhouses, development can be phased according to economic trends.
© all rights reserved