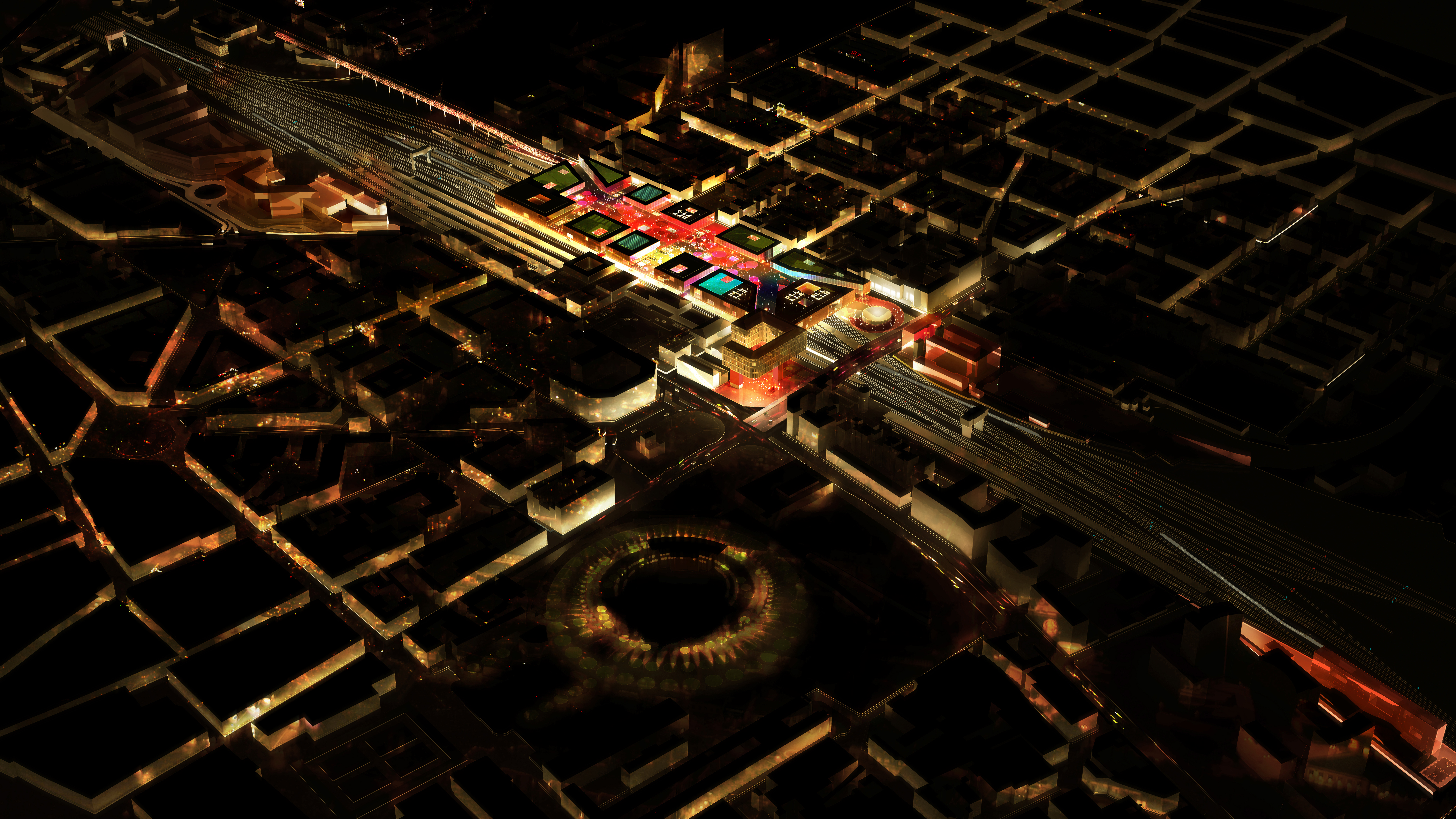 Citta Sospesa
The new Bologna Central Station building and the development of the surrounding areas offer the chance to reconnect the northern and the southern parts of Bologna and to interpret the station as a clear urban fragment that creates coherence within its context. For this purpose we propose to take the surrounding urban fabric of Bologna as the inspiring source of the project.
It is understood that contemporary stations should be integral parts of the city. We therefore thoroughly analyzed the urban structure of Bologna.

Our scheme proposes to build a new level above the rail tracks, to continue the urban fabric and accommodate the envisaged additional program. Different kinds of public transport can be interconnected this way and combined with activities of the daily urban life. The train station becomes an inhabitable piece of infrastructure and hence a part of the city. The new complex creates urban vitality by connecting the northern and southern parts of the city.
The new central station, called 'Citta Sospesa' is easily accessible by means of ramps, elevators and escalators, both for travelers and passers-by. A new network of streets and public squares emerges which are bound by public, commercial and cultural facilities. They are protected from sunshine and rain by means of large arcades; such elements specific to the local context are interpreted in a contemporary way for the design.

At the same time the station program can easily be combined with the city program creating an attractive commercial and cultural environment which offers great user flexibility. Openings in the new square create visual connections between the levels below and above ground, and facilitate orientation and sunlight penetration down on the rail tracks.
The roofs of the 'Citta Sospesa' offer additional places for relaxation to both travelers and the citizens of Bologna, with stunning views over the city, close to the rail tracks. Streets, plazas, escalators, ramps and elevators create a 3-dimensional infrastructural network that ensures fast access to the rail tracks.

The new Central Station design is part of a wider masterplan, which integrates the program required in the competition into the surrounding urban areas. The morphology of the city is continued without creating any historic replicas.
© all rights reserved